100%volume&LENGTH EXTRA MASCARA
Volume and length in one product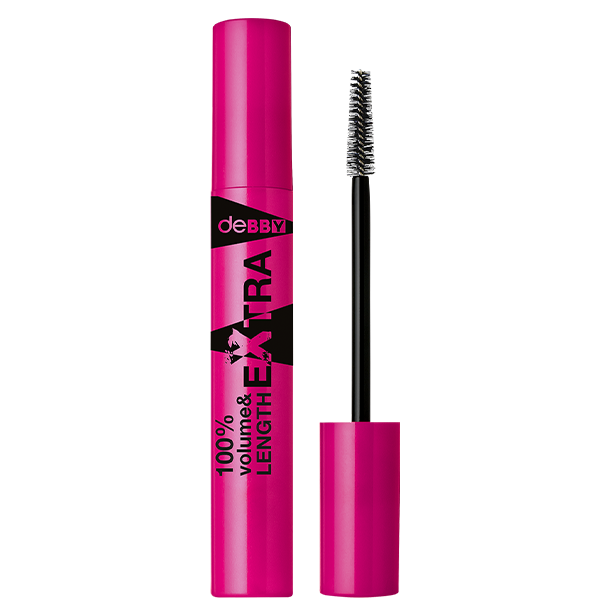 100%volume&LENGTH EXTRA MASCARA
Volume and length in one product

it's time to study
For thicker, longer and blacker-than-black eyelashes, deBBY is delighted to present its new 100% EXTRA volume&LENGTH Mascara.
Enriched with Triple Carbon Black, the formula includes Keratism S, an ingredient that encourages lashes to grow stronger, while the tapered brush grips even the most hard-to-reach lashes.
Just one swipe creates a full-fan effect and a dramatic gaze.
Composition
INGREDIENTI: AQUA, PARAFFINA, CERA ALBA, COPERNICIA CERIFERA CERA, TRIETANOLAMMINA, PROPILENE GLICOLE, ACACIA SENEGAL GUM, ACIDO STEARICO, ACIDO PALMITICO, GLICERIL STEARATO, PEG-75 STEARATO, TRIMETOLIRILPENTINO ACACIA GOMMA SENEGAL, ACIDO STEARICO, ACIDO PALMITICO, GLICERIL STEARATO, PEG-75 STEARATO, TRIMETOLIRILPENTINO ACIDO POLICOLO, TOMETOLIRILPENTINO , SILICE, IDROSSIETILCELLULOSA, OLIO DI SEMI DI RICINO COMMUNIS, POLIETILENE, PVP, CELLULOSA, SODIO DEIDROACETATO, FENOSSIETILCELLULOSA, OLIO DI SEMI DI RICINO COMMUNIS, POLIETILENE, PVP, CELLULOSA, SODOSSIIDRO 772, CIETOSSIIDRO 772, CIETOSSIIDRO 772